Lindsay Lohan bitches her mom out in public
Lindsay breezed in late last night to a birthday celebration for her mom, Dina. She arrived and found that her mom and mom's friends had already gone through one bottle of Cristal, and was furious! How dare her mom have fun on her birthday before Lindsay arrives??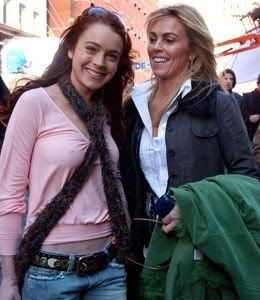 Right after the first course arrived, Lindsay and her mom started going at it. Fellow restaurant patrons Ryan Cabrera, Brandy and Serena Williams, sitting at other tables, were horrified when Lindsay and her mom started hurling curse words at each other. Finally, Lindsay stormed out, telling her mom to "go to hell," leading Dina to start crying uncontrollably. She proceeded to type furiously on her BlackBerry for 45 minutes, eyewitnesses report, then started throwing fortune cookies at the waiters-and burst into tears again when her birthday cake came out.
Lindsay, on the other hand, made her way downtown to a fashion week party for Calvin Klein, where partygoers reported she seemed upset at her mom's breakdown, though she smiled for TMZ's cameras on the way out. Dina and Lindsay are often seen out at parties together, but this may signal a new stage in their relationship.
Happy Birthday, Dina. Your present: a selfish bratty daughter.
Of course Dina was crying after Lindsay left... she was wondering who was gonna pick up the tab for the extravagant dinner after Lindz stormed out. It must be hard to discipline a child when they bought everything you own.