The Face & the marriage

Supermodels have fought over who gets to be called "The Body," but no one has challenged Renee for The Face. Who can compete with her? You'd have to spend half your lifetime practicing in the mirror to perfect that look. You know she married a gay guy so he wouldn't disrupt her marathon practice sessions.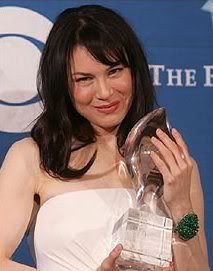 Renee's recent ramblings about her marriage to Kenny:
Speaking for the first time about her failed marriage, Renee tells British magazine Now, "There was no alternative but to let it go. I made the biggest personal mistake of my life. I felt a fool. I was looking for something else. I just needed to put acting aside. I needed to sit still and not to worry about the dresses and the hair and the travel and the interviews. I was going through huge life changes at the time. I wanted to stop and be a girl for a while. My marriage came during this time and it was desperately important to me. I don't want anyone to think I didn't take it seriously."
You got married to be a girl for a while? Can't you just get some lip gloss and season 5 of Sex and the City to do that?
[source]