Wanna buy Britney & K-Fed's love nest?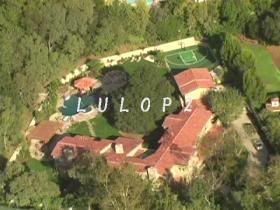 Newly-single star Britney Spears has reportedly placed her Malibu, California, mansion up for sale after filing for divorce from husband Kevin Federline.

Federline was unemployed when Spears paid $6.9 million for the eight-bedroom home following their October 2004 wedding. The lavish abode includes an outdoor kitchen, spa, gym, tennis courts, $150,000 nursery and a recording studio.

The New York Post reports Spears is asking $13.5 million for the mansion.
Dammit! Why doesn't she give the mansion away for free, like she's doing with the photos of Jayden James? K-Fed is gonna get 20% of the money from the mansion.

She should lower the price anyway, cause you know the new owners are going to have to spend at least a million on cleaning K-Fed's grease and cigarette burns from every room, not to mention the cheetos ground into the carpet.
[source]