Julia Roberts just got knocked up again!!
Julia can't keep her legs closed...
Julia Roberts is expecting her third child with husband Danny Moder.

Roberts is due this summer, her rep, Marcy Engelman, confirms.

News of the pregnancy first appeared in the New York Post's Page Six column. Roberts, 39, and Moder, 37, were married in July 2002 and welcomed Hazel and Finn (short for Phinnaeus) in November 2004.

In May, Roberts told David Letterman of the twins: "They seem to really love each other. He's sort of very boyish and masculine. He has red hair and big green eyes. And she's very girlish and has very blonde hair and blue eyes. He likes blueberries. She likes her daddy."
All I have to say is, let's hope this baby is a girl, cause if it's a boy she's going to pick out another sissified name for it.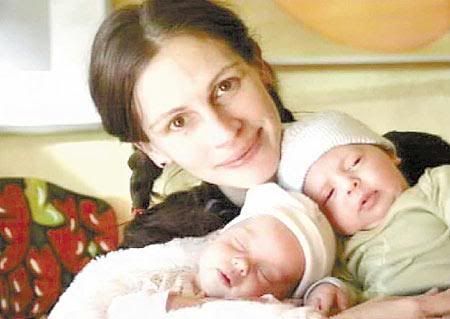 [source]
Labels: Celebrity Babies