Kanye West and his new fiancee
As I'm sure you've heard, Kanye West recently proposed to his long-time girlfriend Alexis. I'm positive you know about this since pretty much every website out there has made a joke about not sayin' she's a gold digger. Here they are together, leaving the airport:
Question: What is the deal with every celebrity wearing a weird looking unitard-like black shorts getup with heels? Why do they think this looks good?? If you look closely at Kanye's fiancee, you can see that it's actually a separate shirt and shorts, but she's still got that look. Jessica Simpson wore it, Kanye's fiancee has the look, and now Kate Beckinsale has it too. Let's pray this trend dies hard and fast.
Kate smoking and wearing the monstrosity: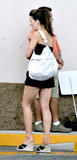 More of Kanye and fiancee Alexis: