Paris is BUSTED
Paris was caught drunk driving this morning and has been slapped with a DUI...FINALLY.

Paris Hilton was arrested in Hollywood early Thursday and charged with driving under the influence.TMZ has learned LAPD officers noticed Paris driving her Mercedes McLaren SLR erratically at 12:31 AM and stopped her. They believed she exhibited signs of intoxication. We're told they administered a field sobriety test, and Paris blew a .08. In California, driving with a .08 blood alcohol level is the minimum level for DUI.

Paris was arrested and taken to the LAPD Hollywood division, where she was booked. The officers who stopped the car did not know it was Paris Hilton until they approached the vehicle on foot. Police sources say she was cooperative. Paris had a passenger in the car -- Kimberly Stewart, Rod Stewart's daughter.


Nicky Hilton, her boyfriend, "Entourage" star Kevin Connolly and her publicist Elliot Mintz arrived at the Hollywood police station just before 2 AM PST. A short time later, Paris was released on her own recognizance and allowed to leave. Cops took a booking photo, which an LAPD spokesperson says will not be released. An LAPD source would not confirm it Paris glammed it up for the camera, but revealed "It doesn't look like Nick Nolte."
Driving under the influence is a misdemeanor. If convicted, the defendant will not be jailed, will be given three months' probation, and will be ordered to enter an alcohol program and will have his or her license restricted for 90 days.
Who cares if they don't release the picture. We all know what it'd look like anyway. Head cocked to one side, bangs covering her wonky eye with a lifeless pout. Ugh, I wish she could just go to jail already. And I think it's really annoying that she's totally gonna try to play this off like, Waaaah, I only had 1 drink. I really didn't do anything wrong. Waaaaah. Hottt. She really needs to get roughed up in jail and bunk with someone named Rosita who doesn't like dumb blondes and hates the word hot. Maybe then Paris will lose that annoying baby voice and will stop singing, and acting, and talking and being anywhere in the public eye. Right?
***UPDATE*** Pictures have been released of Paris getting arrested. Isn't life GRAND?!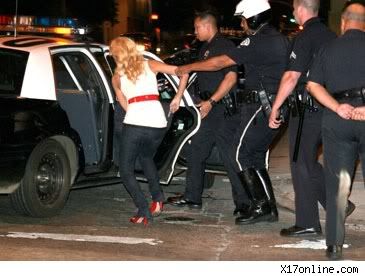 [source]