Federgrime gets up close and personal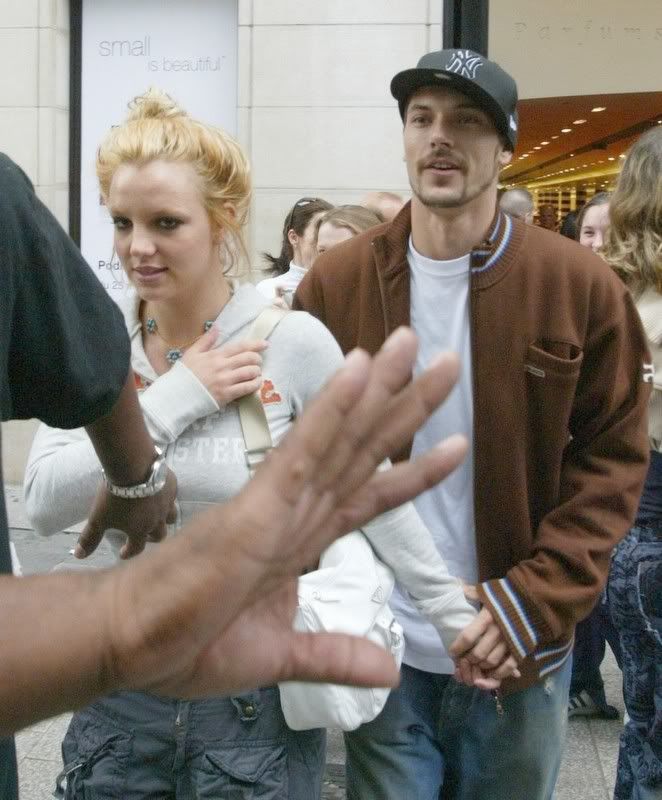 Britney Spears made sure not to steal the spotlight from husband Kevin Federline as he celebrated the release of his debut album, Playing With Fire, on Tuesday.

Spears donned a pink wig and oversized white sunglasses at the after-party in Hollywood, where she blended in perfectly with the Halloween night revelers, the rapper's rep confirms.

Can't you just see it? Federgrime: "Brit, man, what are you doing dressed like a transvestite with your head inside a cheetos bag, hiding behind that pole? Come out and watch my shit." Britney: "Baby I'm just trying not to steal your thunder!"
"She's really supportive of what I'm doing, she knows I've been working on this for a long time," Federline told People. "It's going to be tough because I'm not going to see my family as much as I want to, but I mean, those are the sacrifices you make as an artist."



Poor Federgrime. The sacrifices he's had to make. It must have been really hard giving up backup dancing for a life lounging by the pool, smoking pot and burping.



"I don't care if it's a room full of nine, five, nine people. I don't care if there's one person. I'll perform for you," he said. "I'm a rookie artist, you can't expect because of my name to sell out a show. People don't know me as Kevin Federline, the artist. They know me as Kevin Federline, the dude that's married to Britney Spears."


I think he ran out of possible numbers after nine and five.


Granted, he said, that may take time, but "it's all worth it. This is like my pet project. I've been working on it for a year and a half. Just to put it out there and not do anything about it would not be acceptable to me. … I'm just another artist that's having to pay his dues."
Damn. That was amazing. He's such an inspiration to all of us.
[source]