Let's talk Prenup
It was good while it lasted...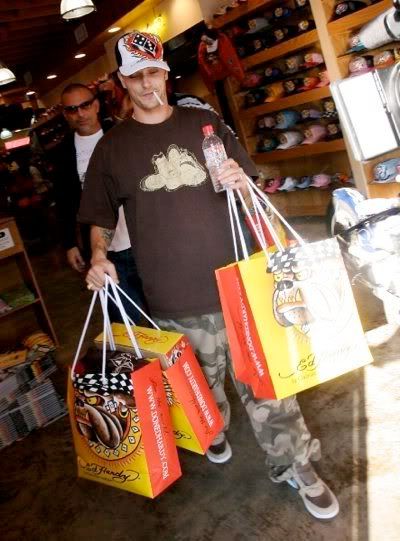 In Touch Weekly reports:

Britney Spears' shock decision to file for divorce today came after a weekend of heartache sparked when she was left to eat alone at a New York restaurant. The pop princess was left in tears at her table as she waited for husband Kevin Federline at The Library restaurant inside New York's Regency Hotel on November 2.

The following night she paid him back when she was a no-show at his tour launch at Stereo nightclub, where she was due to introduce him. He was left scanning the room and checking his Sidekick. When asked how his wife was, Kevin, 28, admitted: "I don't know." Later when the DJ played her song "Slave 4 U," Kevin made a slashing motion across his throat, telling him to cut it off.
I am LOVING this girl right now. Ok... now for the details of the prenup:

1. Federgrime won't touch a penny of Britney's money. All the millions belonging to Britney will stay that way. The mansion will be divided 50/50.

This part is the worst. You know that mansion of theirs is worth millions. And what has K-Fed done to deserve that? Other than leaving his ass print on every deck chair by the pool?



2. Any gift given worth over $10,000 will go back to the original purchaser.

Score one for Britney!! I can't wait to see his car and bling get hauled away with him crying in the background.



3. She will still support him for a little while longer. Brit will pay Kevin $30,000 a month for the period of time that is half the length of their marriage.

Crap, it looks like he's gonna get his hands on $360K on top of whatever he gets for the house.



4. Spears won't pay child support. Federline is responsible for supporting his other two children with Shar Jackson.

Oh wow, can you believe he's gonna have to support the kids he knocked Shar up with before he met Britney? Now, that's just horrible and cruel.

There's also rumor that the prenup was changed after they popped out little SPF, and K-Fed will get a certain amount of money for each baby they have together. Is she seriously paying for his genes?!

Federgrimey shows off the one thing he'll be left with after Britney clears out his gifts:


[source]