Tom feasts, Katie drools
Tom Cruise reportedly shelled out $10,000 for a dinner with fiancée Katie Holmes. Cruise took Katie to Mastro's Steakhouse in Beverly Hills, according to In Touch Weekly, and to ensure their privacy, he paid 10 grand for a private dining room usually booked by groups of 15 or more.

Holmes is said to have barely touched her grilled sea bass, but Cruise chowed down on a whopping porterhouse steak, a Caesar salad and three side dishes: wasabi mashed potatoes, French fries and onion rings — and he topped it all off with a dessert of cheesecake and chocolate-covered strawberries. The pair were celebrating not only their impending wedding, but also Cruise's new gig at United Artists.
Now that Katie's insides have been replaced with robot parts, she doesn't need real food to survive. Tom, on the other hand, needs all the calories he can get to continue acting like a crack addict all over town and attend 5 manly soccer games per day.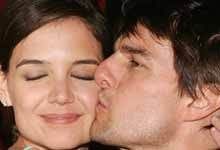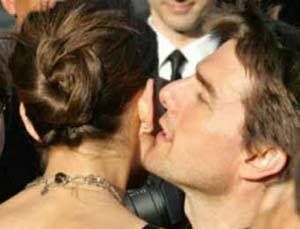 Looks like Holmes is developing pricey tastes. In addition to selecting a lavish Armani wedding gown, ITW also reports that the bride-to-be has selected the scent she'll wear on her wedding day: Clive Christian No. 1, one of the most expensive perfumes in the world, which retails for $2,350 an ounce.
This perfume is creepy looking. It looks more like something you'd use to poison Snow White than something you'd want to douse yourself with on your wedding day.

[source]