Anna Nicole's son checked by coroner to the stars
Anna Nicole Smith hired Cyril Wecht to perform a second autopsy on her son, Daniel, who was found dead in her hospital room three days after she gave birth to a baby daughter. Cyril was involved in the autopsies of Elvis, Jon Benet Ramsey and Laci Peterson.
Cyril said the cause of death is still pending, but he has ruled out heart disease, cancer, systemic infection, or a pulmonary embolism.

"I find nothing to suggest to me any kind of foul play," Wecht added. "I think that we have a tragic death of a young man and ultimately the cause is going to be determined."

Wecht also took samples for a second set of tests to compare them to those done in the Bahamas. Wecht says toxicology results may take two weeks to four months to come back, though Her Majesty's Coroner Linda P. Virgill says a jury inquest is still scheduled for Oct. 23.


So.. why did Daniel die?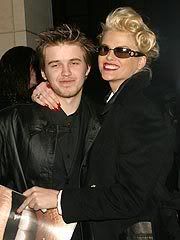 [source]