Till 2 months do us part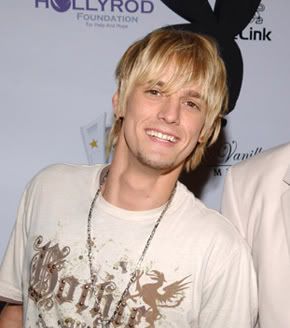 Get this...Aaron proposed to his girlfriend last night in Vegas. Just warms your heart.
Aaron Carter, the younger brother of Backstreet Boy Nick Carter, proposed to his girlfriend Kari Ann Peniche on stage last night in Las Vegas, a source tells Us. Carter initially planned to go directly to a local chapel but decided a proper wedding needed some planning. The couple reportedly plans to wed in the next six months.

Peniche, 22, was named Miss United States Teen in 2003 but had her title revoked after she posed for Playboy. According to her
MySpace
profile, updated yesterday, she is currently single and does not want kids. She might want to update that.
I know it's gonna last. You know it's true love when running to a chapel in Vegas is an option. And when a Carter is involved. He just comes from a really good, stable family, ya know? His brother was in love with Paris, for pete's sake. They're just solid people. You just know it's gonna be a strong union. And totally has nothing to do with the fact that he has a new show coming out with his equally normal, stable siblings. God, I'm SO happy for him. He totally found his publicity stu....SOUL MATE.
[source]