Attack of the Shemale
Fergie has been sort of laying low after wetting her pants onstage a few months ago, so she's been out of the gossip columns lately. However, she was spotted in Berlin the other day, and we just wanted to take this opportunity to give her a tip: Wearing a princess crown and drawing black lines across your eyes just makes you look even more like you're dressed in drag. Looking like a drag queen doesn't exactly help you blend in. And if you don't have much control over your bladder, you should probably try to blend in and be as undercover as possible.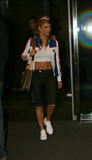 Looking back on the infamous Fergie "incident"... yikes, why is that guy getting so close?
[source]