Gwen, Gavin & Kingston wear interesting pants
Gwen and family were spotted out strolling in Hollywood. I can't say anything nice about them after what happened when I said something nice about Kate Hudson, obviously. So I'll just stick with mean: Gwen... Tapered sweatpants with graphics, and stiletto heels? Didn't you learn any lessons from Mrs. Federline, who almost dropped her baby on its head while wearing heels? Gavin: are those orange and brown loafers? The T-shirt also looks kinda womanly, with that little pocket.
Get it together, guys.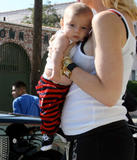 [source]