Kevin Federgrime gets embarrassed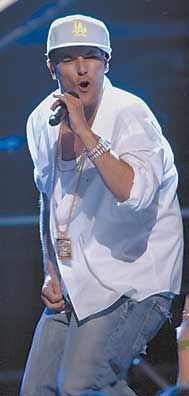 Hey, I'm sick of him and his God-awful Teen Choice awards performance too, but I couldn't let y'all miss this little gem:
Kevin Federline was left red-faced after a host of celebrities snubbed his Teen Choice Awards after-party.
The fledgling rapper - who left onlookers stunned with a cringe-worthy performance of his new single 'Lose Control' at the event - invited a galaxy of stars, including Jessica Simpson, 'The O.C.' star Mischa Barton, 'Superman Returns' actor Brandon Routh, and singer Nelly Furtado, to the VIP event but none of them showed up.
An insider revealed to America's New York Daily news newspaper: "After everyone saw Kevin's performance, no one wanted to be stuck there having to pretend it was good."
However, Kevin was joined at the bash by his pop star wife Britney Spears, who is pregnant with their second child.
When you get stood up at your afterparty by Jessica Simpson, who has nothing to do but brush her dog, and Mischa Barton, who dates some of the dirtiest guys in the state... you know you have a problem.
Kev seduces the ladies:
[source]