Lindsay's fav bunny
Lindsay is spreading her good girl, wholesome spirit to her friends, by sending them all sweet little care packages.
"Lindsay has been making her female friends laugh by sending them sex toys as she wanted to cheer them up."The latest thing she sent out was an Ann Summers sex toy called the Deluxe Rampant Rabbit. Lindsay thinks they are hilarious."As well as 12 pairs of sexy black thongs, some massage oil and edible underwear she has ordered 12 of the Deluxe Rabbits off the internet."
Jeez. Why can't critics looks at these sweet things she does, instead of obsessing over her partying. If they were to do that, they would realize what a good girl she is. She's not that wild, loose, crazy ho-bag they make her out to be. She's so misunderstood. Linds, I can see you for who you truly are. A darling.
More of Lindsay being a damn goody two shoes
Lohan at the beach over the weekend with her boyfriend, Harry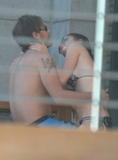 [source]