Scarlett goes Old School
Scarlett Johansson showed up at the Venice Festival in grandmother chic:

She doesn't need to carry a purse when she's got all that room in her sleeves, you know? And who says grown women can't put big sparkly butterfly clips in their hair? Scarlett hasn't yet learned that there's a simple rule for her: She is never, ever allowed to show up on the red carpet without some cleavage showing. Does she actually think that people want to watch her because she's talented?! Bad career move, Scarlett.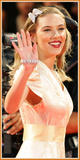 [source]