Emmy Awards 2006: On the Red Carpet!
A zillion stars showed up for this year's Emmy Awards, looking both fantastic & awful.

*Click on the photos below to see them BIG!*

Jamie Pressley: Way too much purple lace, but hot nonetheless

Jennifer Love Hewitt: Love the weave


Katherine Heigl: WOW!


Mariska Hargitay: Don't know about
those bangs... or the fungus growing up the front of your dress...

Christa Miller: Orange Amish?



Nancy O'Dell: The corset goes on the inside.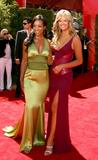 Leah Remini: Purple strap prom dress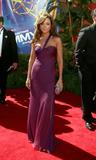 Stay tuned for more photos on Monday!

[source]