Preggers on the 6
Hold on to your hats, kids...guess who's preggers!! Ok, you get 3 hints

1. She is often known as being very sweet and not at all an evil fat ass

2. He is incredibly fit, has glowing, even skin and NO fangs

3. Together, they are a very handsome couple, and can kick your ass with some Puerto Rican Judo...

Ju'do know? C'mooooon Nothing? OK...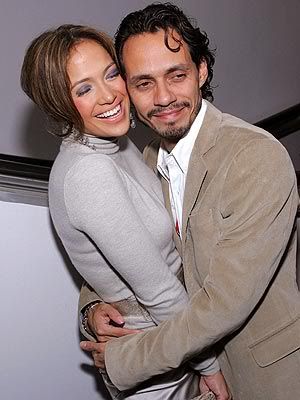 Yep! It's HOpez and Marc An-orexic-thony!! Isn't it wonderful?! I can't wait to see their baby, it'll be so marvelously fug FANTASTIC!
In a radio interview yesterday morning, McCartney told listeners he is dating Katie Cassidy, daughter of former teen star David Cassidy. Katie Cassidy recently landed the role of Lucy Ewing in the upcoming Dallas movie, from which JLo was recently "fired." The interviewer asked, "Oh, so I bet your girlfriend can give us the scoop on why Jennifer Lopez was fired from the movie," to which McCartney responded, "She didn't get fired. She's pregnant."
I don't know what a reliable source teeny bopper Jesse McCartney is, but what I do know is reliable is...TEEN GOSSIP! So everyone can bet their bottom dollar this is true!! Let's start bracing ourselves for another Hollywood Messiah.
*UPDATE* J-Ho is now calling Jesse McCartney a liar, and saying she isn't pregnant. Jesse has issued a public apology. What do YOU believe? Pregnant? Not pregnant? Only time will tell...