Angelina wants middle class kids
Angelina wants to do the impossible:
Meanwhile, it has been revealed that Angelina is determined not to let her children become "spoiled brats". A source said: "She is not the homebody Brad is and wants the kids to grow up as 'citizens of the world', speaking several languages and with a broad perspective on life. " She hates the idea of them growing up in the insular world of Hollywood as the spoiled brats of movie stars who expect everything to be handed to them on a plate."
Face it, Ang, your kids ARE the spoiled brats of movie stars. They live in a multi-million dollar home on the shores of Malibu, honey. Their parents are considered the most gorgeous couple in America. Just get over it, and deal with the fact that you've got a future Tori Spelling and Jack Osbourne on your hands in about 10 to 15 years. And that strategy for making them normal: taking them all over the world, so that they can stay in posh, beautiful villas and hotels and beach resorts all over the world instead of just in Malibu? Not really going to make them down to earth. Sorry!
Here's the mom who thinks she can have normal kids. Ok, no matter what team you're on, you must admit she's a knockout.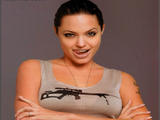 Mama Angie:
[source]