MTV VMA sluts
*click on the thumbnails for the big pic*
Do we need to put Jessica on Tranny Watch? She's starting to look a little manly in these photos. Oh well, at least we get to see her without her extensions in for once.
Dammit Shakira, how can I think of something bad to say when you're just so freaking cute.

Pink showed up with her combover and a huge fake smile.. She also shows off her bra in a see-thru top! Scandalous.

Brook Hogan actually doesn't look that bad in these photos. Her tan in a can isn't too obvious, and she looks like a woman for once. The dress needs to go back to the safari porno set she stole it from though.
Notice how her dad is pointing straight at the goods. I think Joe Simpson has some new competition for the creepiest dad award.


News Flash!! Fergie is still a man.



Rihanna just looks like a little cupcake, now doesn't she.



Amy Lee: For the record, I have no idea who this is. But I will say that the MTV VMA awards are the perfect place for a wannabe goth.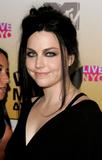 Christina Aguilera... still sticking to her old school diva look. She should just get the red lipstick tattooed on at this point.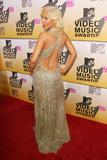 JoJo: Why is she still around? What has she done lately? Honey, take off the girl scout uniform and go fill out some college applications. You don't have a future here.

[source]